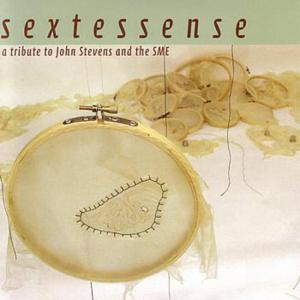 "Sextessense"
Musicians: Bennet / Bryerton / Butcher / De Gruttola/ Kaiser / Smith
Reviewed by Nic Jones, All About Jazz

Anyone for an antidote to repertory? On Sextessense: A Tribute To John Stevens and the SME, the musicians involved are acknowledging what through sheer persistence and longevity has become a part of the tradition (one that is still likely to have the reactionaries foaming at the mouth, which, of course, gives them something to do with their time). The musicians paying tribute are at the same time stating the case for renewal and creativity, which is as it should be. An inherent risk with tribute records arises in the comparison between the celebration and the music being celebrated, but in a sense the presence of John Butcher, a one-time member of the Spontaneous Music Ensemble and a sonic explorer in his own right, negates the issue. Moreover, the Ensemble went through so many instrumental configurations that pinning the music down is a happily difficult task. This throws numbers like "So What Do You Think About John Stevens?" into such stark relief that the listener has no option but to deal with the music on its own terms, with the potential and, indeed, need for comparison entirely negated. Here the only common factor is perhaps the music's rise and fall in volume level, although even in this respect it cannot be taken for granted such increases and decreases automatically equate volume with activity; as per the Ensemble itself, the correlation between volume and activity is profoundly undermined. Besides which, musicians like Henry Kaiser on guitar have long since fashioned their own identity; on "Has Duration" his sparse, arid playing is in marked contrast to John Butcher's soprano sax, which by Butcher's standards is relatively expansive. It makes for something close enough to unique as to be not worth quibbling over, especially as Jerome Bryerton's percussive palette is at odds with that of Stevens and entirely his own. Perhaps the only thing that unites the music across the years is this group's appreciation of dynamics. Even at its most frenetic the SME was profoundly at odds with, say, Cecil Taylor's evident fear of inactivity, and the volume level here is often such that it draws the listener in, enticed perhaps by the thought of coming to terms with the music's essence, as per the title track. Overall, this album calls the commonly understood meaning of a tribute into question. Fortunately, the music is much more worthwhile than the notion of a tribute implies, perhaps because the cold, clammy hand of reverence has no place here.