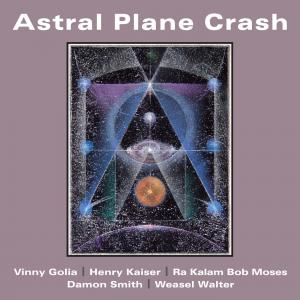 Astral Plane Crash BPA 018
Musicians: Vinny Golia - kawala (Egyptian flute) sopranino, soprano, baritone saxophones, saxello, Bb clarinet, piccolo
Henry Kaiser - guitar
Ra-Kalam Bob Moses - drums, percussion
Damon Smith - amplified double bass
Weasel Walter - drums, percussion
Reviewed by Robert Bush, NYC Jazz Record
This is a scorching session of pure group improvisation with Vinny Golia's arsenal of reeds and flute, Henry Kaiser's electric guitar, Damon Smith's resilient bass and the twin drums of Bob Moses and Weasel Walter.   The disc is divided into two long pieces. "Fountain of Dreams" opens the program with a stunning duet between effusively gruff baritone saxophone and the explosive traps of Moses; there's more action than a Marvel movie in this pairing. At about six minutes in, the baton is handed to Kaiser, who begins assaulting his instrument in much the same sonic fashion as the venerable master Derek Bailey, the vituperative Walter shoving him towards a constant state of agitation, producing a profound distorted, orgiastic caterwaul. Both subgroups realign at the 11-minute mark with Golia switching to Egyptian flute (similar in range to the piccolo) and the drummers filling the stereo curtain. Golia toys with heroic multiphonics reminiscent of the late Dewey Redman singing and gurgling into his horn while Kaiser tortures Western tuning ideals with dangerous manipulation of the
 machine-heads of his guitar and wild pitch-bend
 
electronics. Smith chooses his moments to emerge judiciously but his resonant, woody sound is always a welcome addition. Golia switches to sopranino and Kaiser takes on the nature of a swarm of aggressive bees on the attack before the drummers take their turn in the spotlight. Golia returns to the baritone as he and Kaiser wrap around each other in serpentine fashion. Clocking in at 44 minutes, "opus" could be a considerable understatement in terms of a description. "Mysterious Journey" begins with Kaiser scraping strings, plucking beneath the bridge and above the nut, activating natural and artificial harmonics in a stunning display of the history of free guitar. Golia enters, over the sound of Walter's fingertips on toms, as Kaiser gently arpeggiates amorphous chords. The music ebbs and flows from the relatively pensive to the extremely volcanic and back again.