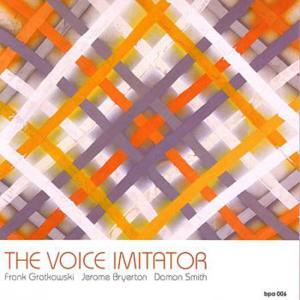 "The Voice Imitator - BPA006"
Musicians: Gratkowski, Frank/Bryerton, Jerome/Smith, Damon
Reviewed by François Couture, All Music Guide
In October of 2002, Frank Gratkowski took a trip to the US West Coast, where he teamed up with the rhythm section ("it would be difficult to call us a rhythm section, but we are a section of some kind," writes Smith in the liner notes) of bassist Damon Smith and drummer Jerome Bryerton. The Voice Imitator chronicles two concerts performed on consecutive days in San Francisco and Oakland, CA. The first difference setting this disc slightly apart from Gratkowski's other albums is that the music is 100% freely improvised. The second difference is that he plays more clarinets than saxophones. The first concert, titled "Three Character Attacks" offers the widest range of dynamics and is overall the more enjoyable of the two. It features some of the reedsman's trademark extreme dynamic leaps, moving very quickly from a rapid-fire, Fire Music-inspired section to moments of rigid asceticism. The third piece from that concert is memorable. Halfway in, Gratkowski sticks to Spartan gurgles and smacks while Smith answers him with slaps from his loosened bass string. Bryerton works subtle miracles in the background to lead to a new build-up that will inspire the reedsman to pick up his saxophone and start blowing post-bop style -- the only occasion where one hears traces of a jazz background and a distinction between soloist and rhythm section. The second concert, "Two Instances of Livel/One Memory Lapse," follows a very different path. More homogenous, the music remains textural, occasionally getting very close to the drone. The focus is kept on deep listening, eschewing excitement in favor of complex instant harmonic and textural relationships between the players. A bit less engaging, it still offers an interesting listen, but the concerts are better approached as separate entities.