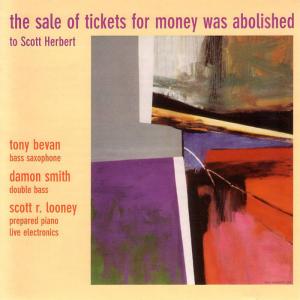 "The Sale of Tickets for Money was Abolished - BPA 002"
Musicians: TONY BEVANS / SCOTT R. LOONEY / DAMON SMITH
Reviewed by Robin Stowell, Double Bassist
The sleeve note declaration that this recording was made in two hours with only one small edit may raise some doubts about the artistic significance of it's content. Further doubts may be fuelled by: the comment that the performers 'were pressed for time since tony had to catch a plane'; the 'instant composition' nature of the recorded fare; and the fact that the titles of the 10 tracks were determined after the recording sessions with reference to Jorge Luis Borges The Babylon Lottery.
Nevertheless, the manner in which Damon Smith and Scott Looney tap a wide range of extended techniques here is astonishing, while bass saxophonist Tony Bevan frequently acts as an intermediary and runs the gamut of grinding, growling, groaning, quacking and singing - notably in the most extended improvisation 'Debris of a Mask Factory'. In the two duo items, Bevan combine with Smith in 'An Adverse Drawing Might Mean Mutilation or Death' and finds Looney in scintilating form in 'To Accept Errors is not to Contradict Fate'. 'The music poses new questions if you are willing to hear them,' says Rubben Radding somewhat puzzlingly in his sleeve note. Perhaps I was merely listening and not 'really hearing'.