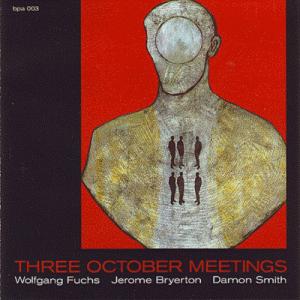 "Three October Meetings BPA 003"
Musicians: Fuchs, Wolfgang/Bryerton, Jerome/Smith, Damon :
Reviewed by Francois Couture, All-Music Guide
Fuchs, Wolfgang/Bryerton, Jerome/Smith, Damon
Three October Meetings
Balance Point Acoustics 003
The third and finest release yet on Damon Smith's label Balance Point Acoustics, "Three October Meetings" chronicles a few days young Bay improvisers Smith (double bass) and Jerome Bryerton (drums) spent with German clarinetist Wolfgang Fuchs. The CD combines material from two concerts in Berkeley and San Francisco, and a studio session. All recordings took place within a three-day period in October 2001. Smith has rarely displayed such colorful and varied playing. Fuchs, like Radu Malfatti an instigator of silence-focused free improv, alternates between his soprano saxophone, bass and contrabass clarinets. The low, breathy growls of the latter intermingle with the bassist's sinuous arco, while the overtones of the soprano sax mesh with the drummer's bowed cymbals. Bryerton is the real discovery here. His playing is light, inventive and pertinent. Never busy for the sake of it, he focuses on the cymbals in a way strongly reminiscent of John Stevens. The CD starts with a few short studio tracks that explore rather specific textures mostly triggered by Fuchs' choice of instrument or initial technique. Then come the live selections. The long improvs of "Meeting One" are captivating, thanks to a high degree of listening. Despite age difference, these three share the same language. Recommended.