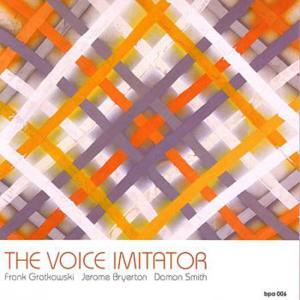 "The Voice Imitator - BPA 007"
Musicians: Frank Gratkowski, Jerome Bryerton, Damon Smith:
Reviewed by Ken Waxman, Jazz Review
Review: This live CD matches veteran German improviser Frank Gratowski with Americans Jerome Bryerton (Chicago) and Damon Smith (San Francisco). The music here is more about mood and textures than it is about cacophony. The opener, photographers , unfolds at an unhurried pace. Gratkowski blows long, low clarinet tones, while Bryerton bows metal objects and Smith bows his bass. These sustained tones then give way to clangs and accents from Bryerton leading to a faster pace from all three. Even when they are at their most frenetic, the music is still very subtle and personal. the prince opens with a strong bass line and Gratkowski blowing air through his alto. He creates rhythmic pulses that move into notes that weave between Smith's strong bass line. Bryerton creates long, pulsating metal tones by scraping and bowing his instruments. This provides an interesting balance to the normal staccato percussion sounds and allows him to match the sound of his trio mates.

profound and shallow starts with near imperceptible sounds. The players restraint draws you in as an active listener. At the two minute mark, Bryerton hits a cymbal, almost as if a cue, and things pick up. Smith's high pitched arco tones match Gratkowski's horn and it's difficult to tell who is who. They continue this duet with slight punctuation from Bryerton, then move to the lower register, keeping their tonalities similar. They then echo each other with a brisk walking line as Bryerton picks up the pace offering quick and sharp sounds. The piece expands and contracts over nearly twenty-five minutes.

The remaining three tracks offer more of the same. This is high level improvising played by three masters of the genre. Highly recommended.