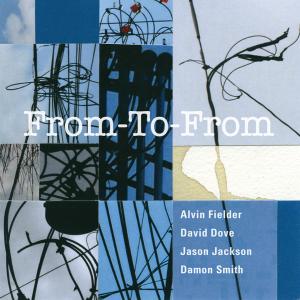 "BPA 015 From-To-From"
Musicians: Alvin Fielder/David Dove/Jason Jackson/Damon Smith

Reviewed by Craig Premo, Improvised Blog

Damon Smith is a bassist who in recent years has migrated from Northern California to Houston. He runs the Balance Point Acoustics label, which has several releases with a mix of American and European musicians.
From-To-From brings together three talents from the Houston area with 78-year-old drumming legend Alvin Fielder. The six tracks appear to be all freely improvised, ranging from a 3 minute blowout to an episodic 20+ minute piece.
Unlike some free improv albums, this record is not just about textures, and the frontline of trombonist David Dove and saxophonist Jason Jackson aren't afraid to mix it up in extended periods of interaction. What is unexpected are those quieter sections where the horn players engage in some West Coast cool school counterpoint, Jackson waxing lyrically on his alto.
Smith provides a framework for the other musicians, and reminds me a little of Barry Guy in that he will let fly with some rapid phrases, and then recede into a supporting role. Fielder, for all his avant-garde credentials, has a solid foundation in all forms of jazz, so it's refreshing to hear him create a nice gangly free-bop groove at different points, with the horns taking advantage, diving in and out of the waves of rhythm he creates.
David Dove, head of Houston's Nameless Sound organization, acquits himself well on trombone, with a garrulous sound somewhat reminiscent of Steve Swell. Jackson's star is seemingly on the rise, as he is now a member of Ingebrigt Haker Flaten's Young Mothers and has made guest appearances with Dennis Gonzalez's Yells At Eels.
The Texas jazz scene is the richer for Damon Smith's presence, and here's hoping it leads to more concerts and more albums