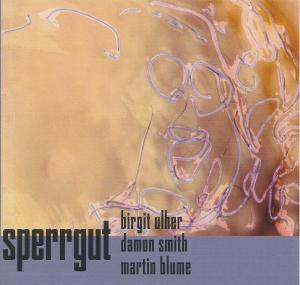 "Sperrgut,BPA 009"
Musicians: Birgit Ulher/Damon Smith/Martin Blume
Reviewed by Troy Collins, Cadence

Hailing from the Bay Area, (1)delivers a collection of open-ended improvisations that traffic in classic call-and-response mode. With boundless invention, all three members of the trio delve deep into their respective instruments to dredge up the most esoteric varieties of sound imaginable. Melody, harmony, rhythm and structure are concepts best left at the table when confronting an album like this. This date is concerned solely with texture, timing and dynamics. Birgit Ulher's trumpet playing is suitably expressive, veering from sputtered whinnies to blats, smears and whispers. Upright bassist Damon Smith plays his instrument much as its smaller cousins are commonly used. Rather than plucking the instrument in a traditional way, he uses his bow to generate sound instead, veering from subtle harmonics to dissonant scrapes. Martin Blume flails around his trap set with a coloristic sensibility, less concerned with pulse than tonal variety. A competent session of limited appeal, this will satisfy those seeking cerebral improvisation, but for those in the market for harmony, melody and rhythm, best look elsewhere.
Troy Collins, Cadence